Judging from the monitoring graph, CPAN Testers 2.0 received its millionth report in early September.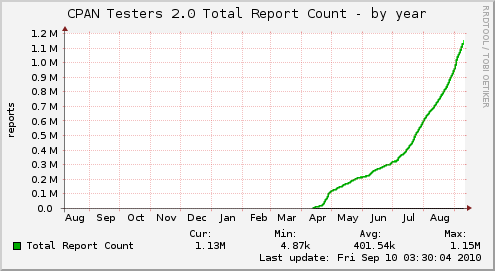 This is nearly one-eighth of the 8.3 million reports contributed since the start of CPAN Testers.
The CT 2.0 server has been averaging just over 14 reports submitted per minute this week. If that submission rate holds up, September will see over 600,000 reports submitted and the total number of reports submitted will nearly double in a year's time.
I would like to say a big thank you to all the CPAN Testers that have been patient through bumps and lumps of the launch of CT 2.0. It looks like we're off a great start!